Our Show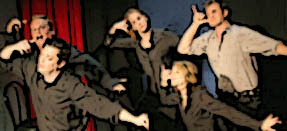 OPENING NIGHT: THE IMPROVISED MUSICAL! is exactly that - a Broadway- style musical that is made up on the spot, based on audience suggestion. Therefore, every night is the `Opening Night' of a musical that has never been seen! Sadly, it is also the closing night, but closing night sounds so very final. And not even this cast can withstand the damage done by weekly wrap parties. Every show, whether a mind- numbing rock opera or a tap-dancing Phantom-filled fiesta, is a completely unique experience!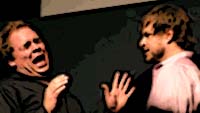 Based in Hollywood, California, the Opening Night cast combines Chicago and Los Angeles improv with the Broadway stylings of Rodgers & Hammerstein, Gilbert & Sullivan, Andrew Lloyd Webber, Bob Fosse and Edith Head. Occasionally, they borrow the helicopter from Ms. Saigon. They usually give it back.
ON has performed at various festivals, comedy clubs, charity events and corporate road shows for almost two decades!